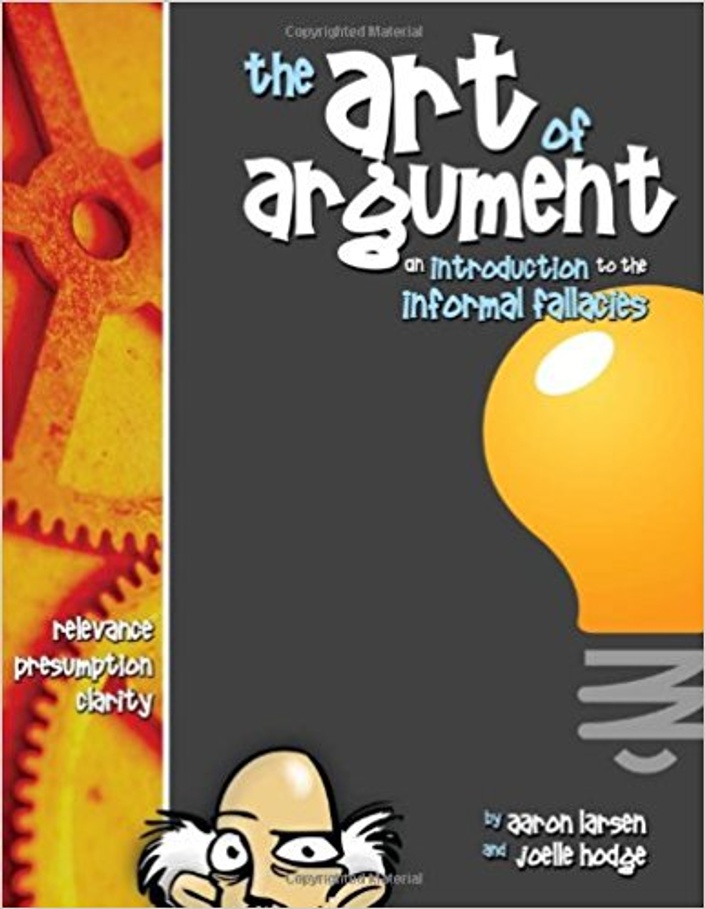 Art of Argument as a Resource for Christians
Start September 6th, 2018 - thru January 12th
Term: Fall 2018, September 6th–January 11
Grade Levels: Grades 9–10; 11th–12th graders welcome
Instructor: Hawaii School of True Science
Schedule: Mondays or Wednesday or Fridays, EST, 60–75 min. Starting time To be determined.
We will use two textbooks for this class. 1) Art of Argument and 2) The Discovery of Deduction.
There are eight chapters in the first book. We will cover 2 chapters per month. Additionally, we will cover the second book in a similar manner in order to conclude the course in 16 weeks (and allow for holidays).

Course review

According to Cathy Duffy's reviews this textbook, " The Art of Argument introduces students to informal fallacies. The content and style of delivery make this most suitable for high school level, although some students in junior high might be ready for it.
https://cathyduffyreviews.com/homeschool-extras/critical-thinking-logic/the-art-of-argument-the-argument-builder-and-the-discovery-of-deduction
This course incorporates humor with examples drawn from current events, popular culture, advertising, religion, politics, and history. The course seems to have been written for Christian students since it draws on examples familiar to and of interest to them, but that shouldn't preclude secular homeschoolers from using it.
There are loads of photos and illustrations, many of them humorous. These include many phony print advertisements created by the authors that look authentic but which embody one or another of the fallacies. The authors also sometimes create dialogues between two students, Nate and Tiffany, and the philosopher Socrates.
The course and the text begins with an introduction to logic then divides the rest of the text into two units. The first unit deals with fallacies of relevance (e.g., ad hominem, snob appeal) and the second with fallacies of presumption (e.g., begging the question) and clarity (e.g., distinction without a difference).
Junior high aged students will argue (and sometimes quarrel), but they won't argue well without good training. Young teens are also targeted by advertisers with a vengeance.
On The second textbook:
"The course can easily be used for independent study, but it would be f un to have a group class meet once a week for discussion.
For grades 8-12 and adults

The Discovery of Deduction: An Introduction to Formal Logic will welcome your students into the fascinating realm of formal, deductive logic. Formal logic studies how an argument is put together—the form or structure of an argument.
The Discovery of Deduction (Student Edition) is geared directly toward students as young as 8th grade, making a subject usually reserved for study in college accessible and relevant to middle and high school, logic-stage students. The book emphasizes the practical and real-world application of soundly structured deductive logic. Using methods such as Socratic dialogue, ample discussion, and integration of other subjects, the book teaches formal logic in the best way for dialectic students. The Discovery of Deduction is recommended after a study of informal fallacies, such as The Art of Argument: An Introduction to the Informal Fallacies ; however, the text stands on its own as an independent study of formal logic.
Your Instructor
Class Curriculum
First Section
Available in days
days after you enroll
Frequently Asked Questions
When does the course start and finish?
The course starts now
How long do I have access to the course?
During the school semester
What if I am unhappy with the course?
We would never want you to be unhappy! If you are unsatisfied with your purchase, contact us in the first 30 days and we will give you a full refund.